Our Father's Table Mission Statement
For Charitable purposes on an all-volunteer basis, to help bring relief for the poor, distressed or underprivileged by providing hot meals.   
To follow as closely as possible Mt. 25:35:
"For I was hungry and you gave me some food; I was thirsty and you gave me a drink; I was a stranger and you made me feel welcome" 
Acts of charity and benevolence are to be carried out in a manner allowing all who enter our doors to be treated with dignity and respect and to partake without any questions asked, or criteria for eligibility. 
To carry out our ministry relying on the generosity of our community.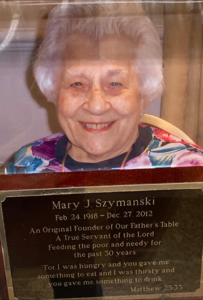 .